Outfit Inspiration - The Casual Chic Style Guide
What is Casual Chic?
Casual chic is a style term we often hear and essentially is about looking smart and put together but with a relaxed, casual edge. It's when your everyday wear features those key upgrades to create an effortlessly put-together and polished look.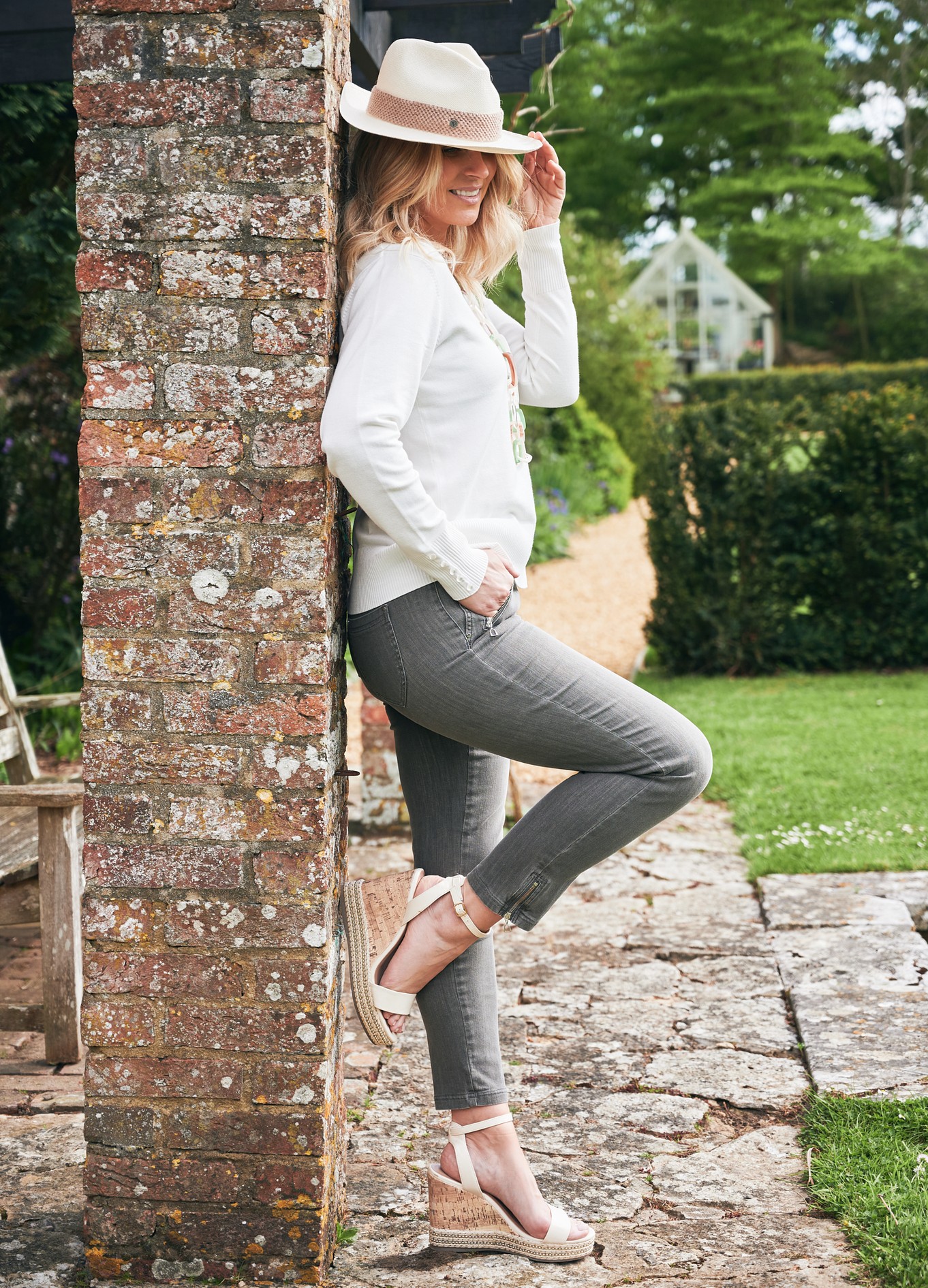 How to Dress Casual Chic?
Achieving casual chic can be as simple as wearing a pair of jeans with a classic shirt or incorporating a subtle use of patterns, prints and texture along with neutral pieces to balance the overall aesthetic. Accessories and shoes are also fantastic ways to elevate an outfit. Casual chic isn't so much about trends but more about a timeless style that transcends through the seasons.
In today's blog post, we're going to include some examples of how to dress casual chic to offer you inspiration and ensure you step out in style every time!
A Classic Shirt
One of the best and most simple ways to achieve a casual chic look is by adding a classic shirt with a pair of jeans. Opting for a well-fitting white shirt can look incredible and provides ultimate versatility, but any neutral colour will work well. You can also try layering a more relaxed style shirt over a tee.
Incorporating those subtle style details such as rolling up the cuff of your shirt sleeve also elevates the look whilst still offering that relaxed, casual finish!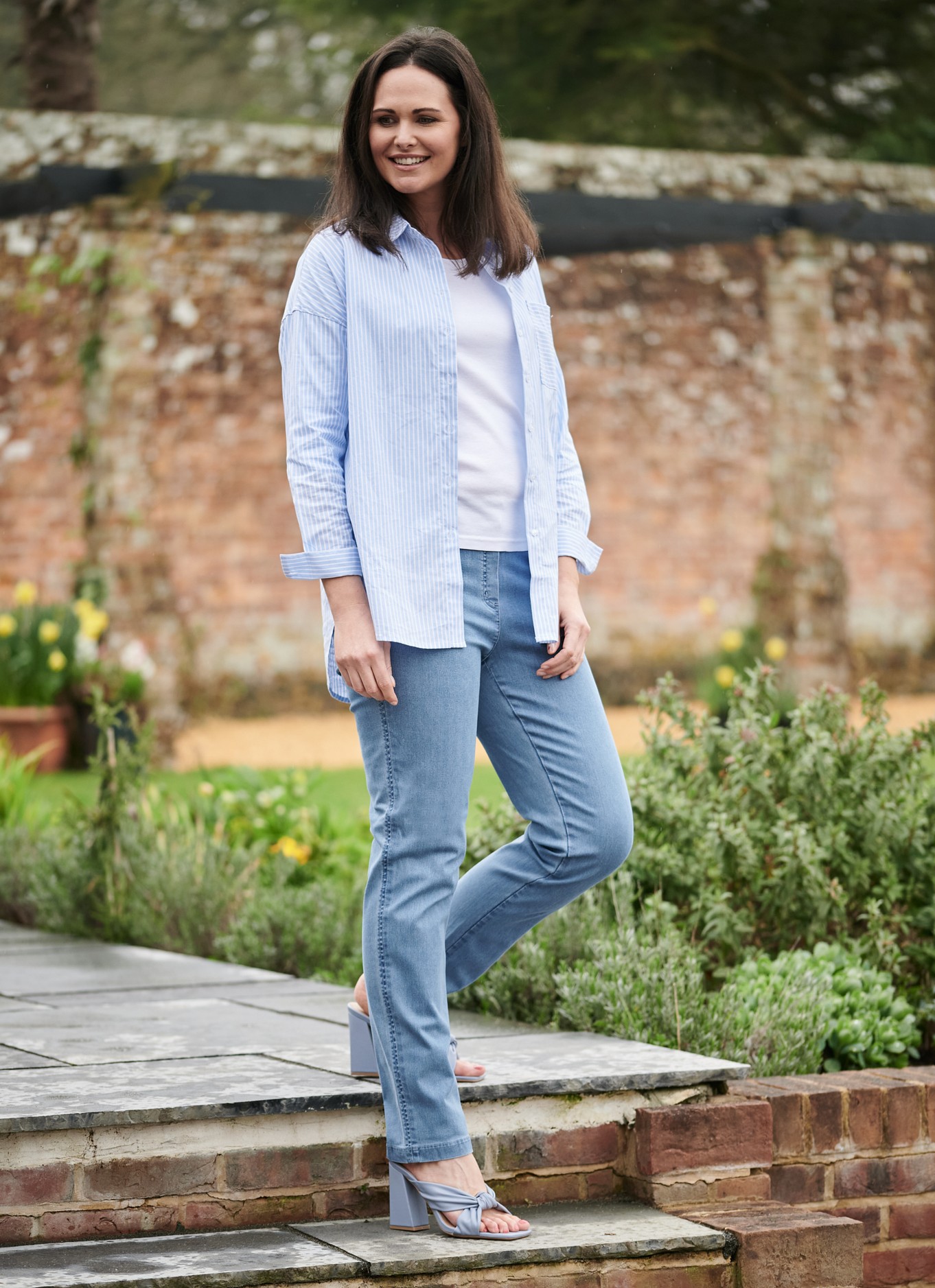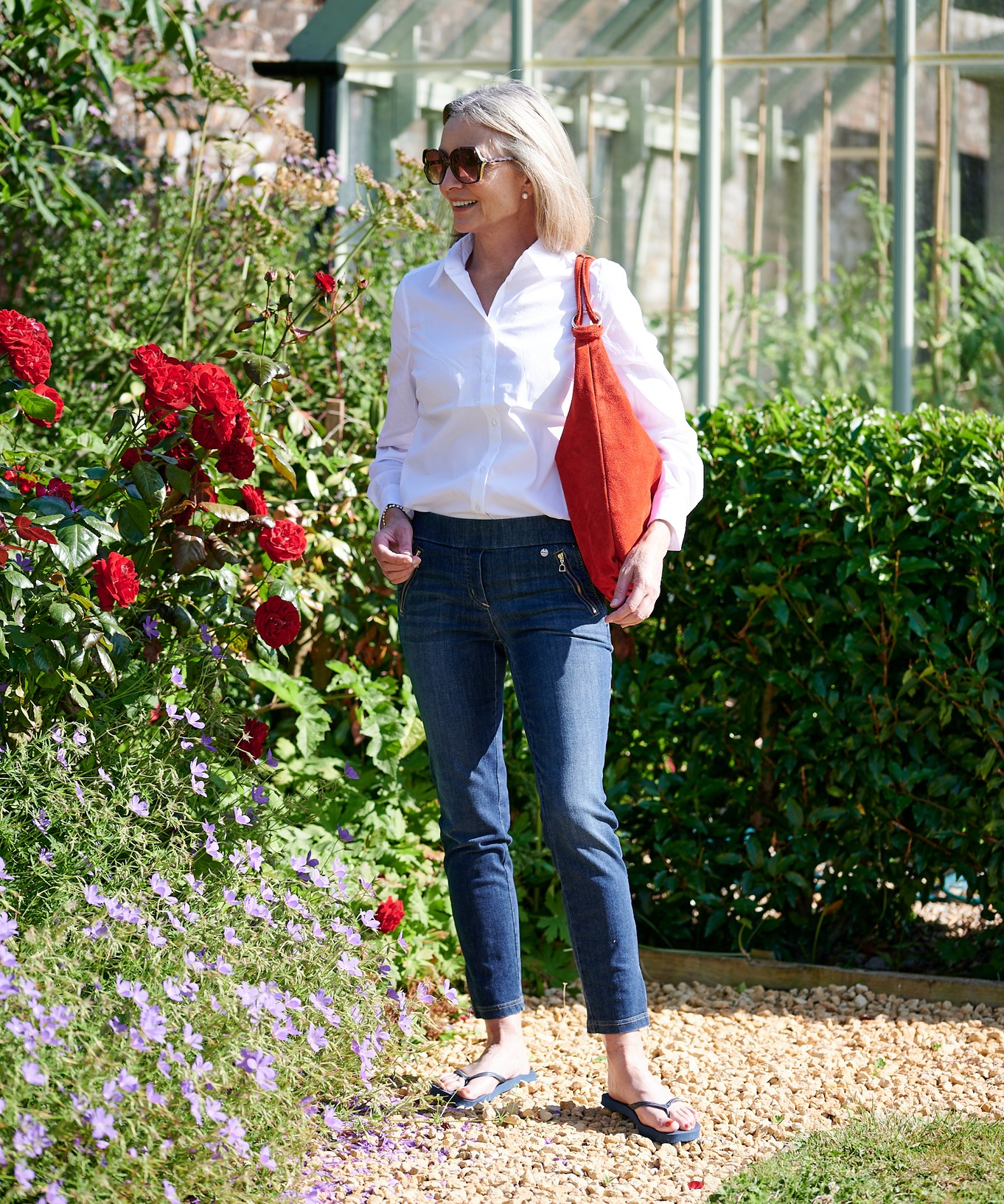 Heels
Adding a pair of heels instantly takes your look from casual to casual chic, not only in the presentation of your outfit but also in terms of your posture and how you walk and move in your outfit!
Heels never fail to look fantastic with jeans, a casual pair of trousers, skirts or dresses, and you can choose from many shoe options such as classic heeled pumps, ankle boots or a longer length boot.
Don't be afraid to experiment with swapping your flats for a pair of heels with a casual outfit as it can be an effective way to nail the casual chic aesthetic.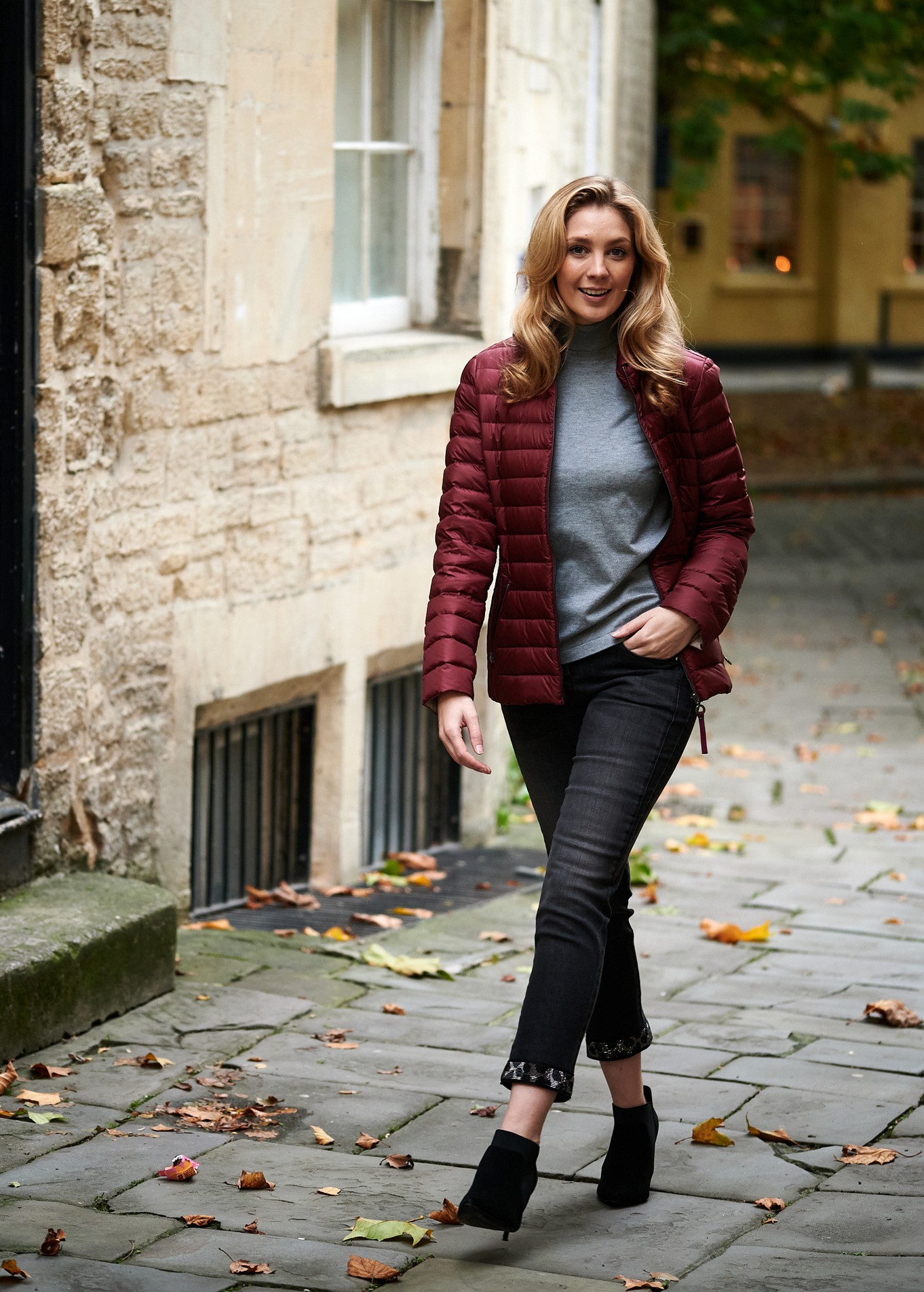 Add a Print
Prints are a fantastic way of infusing an element of statement style into your casual chic look. The key to achieving the desired finish is to balance your patterns with more neutral and complementary toned pieces.
As an example, you could team a patterned pair of trousers with a classic white shirt and a tunic black knit vest. Complete the monochrome look with black heeled boots. The pattern of the trousers really uplevels the outfit and perfectly captures that casual chic look.
You could also try a floral-patterned blazer with a pair of ankle-length white trousers and nude-toned shoes. The blazer adds a touch of the wow factor whilst the rest of the outfit remains neutral, making it appropriate for various occasions.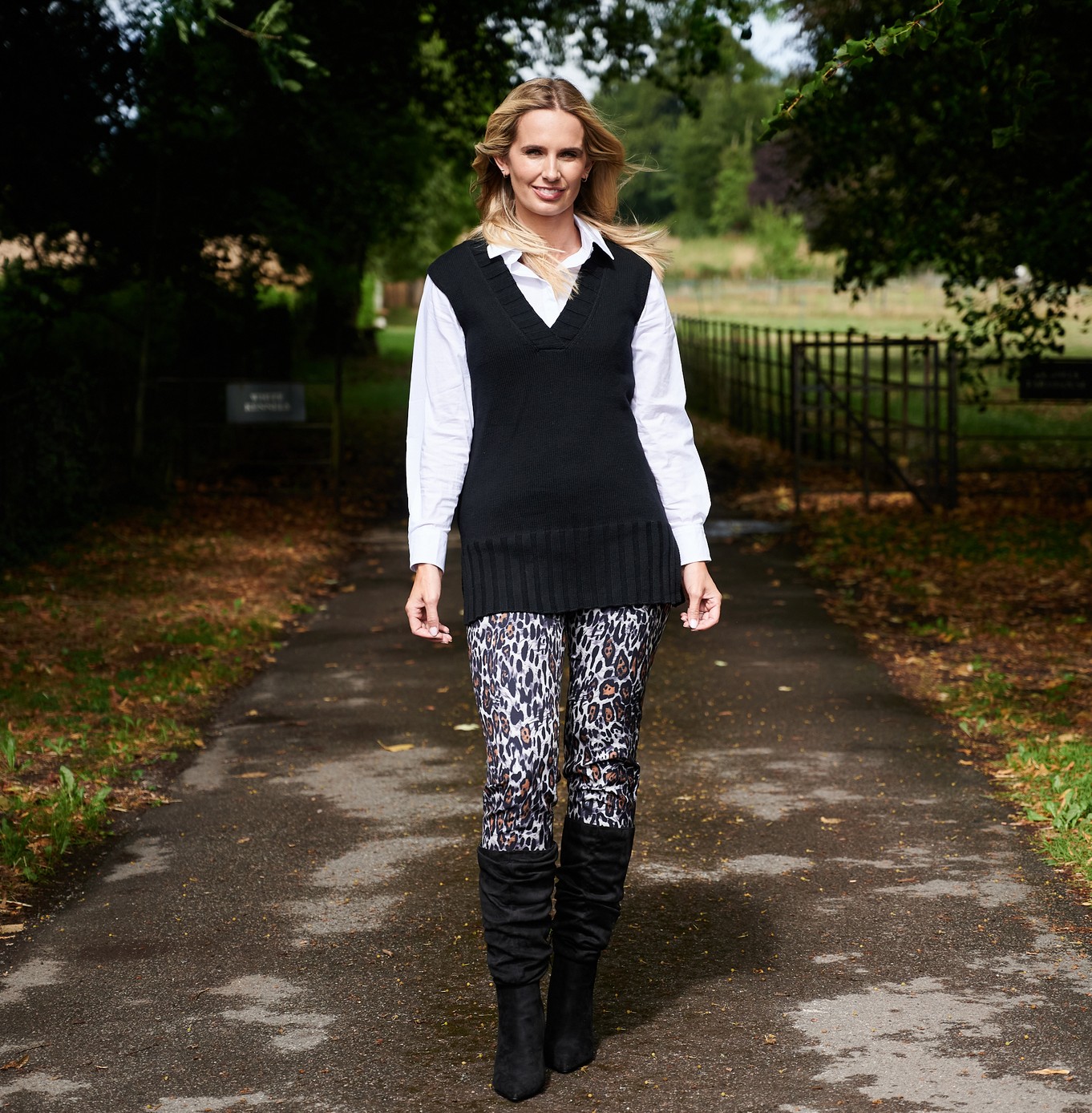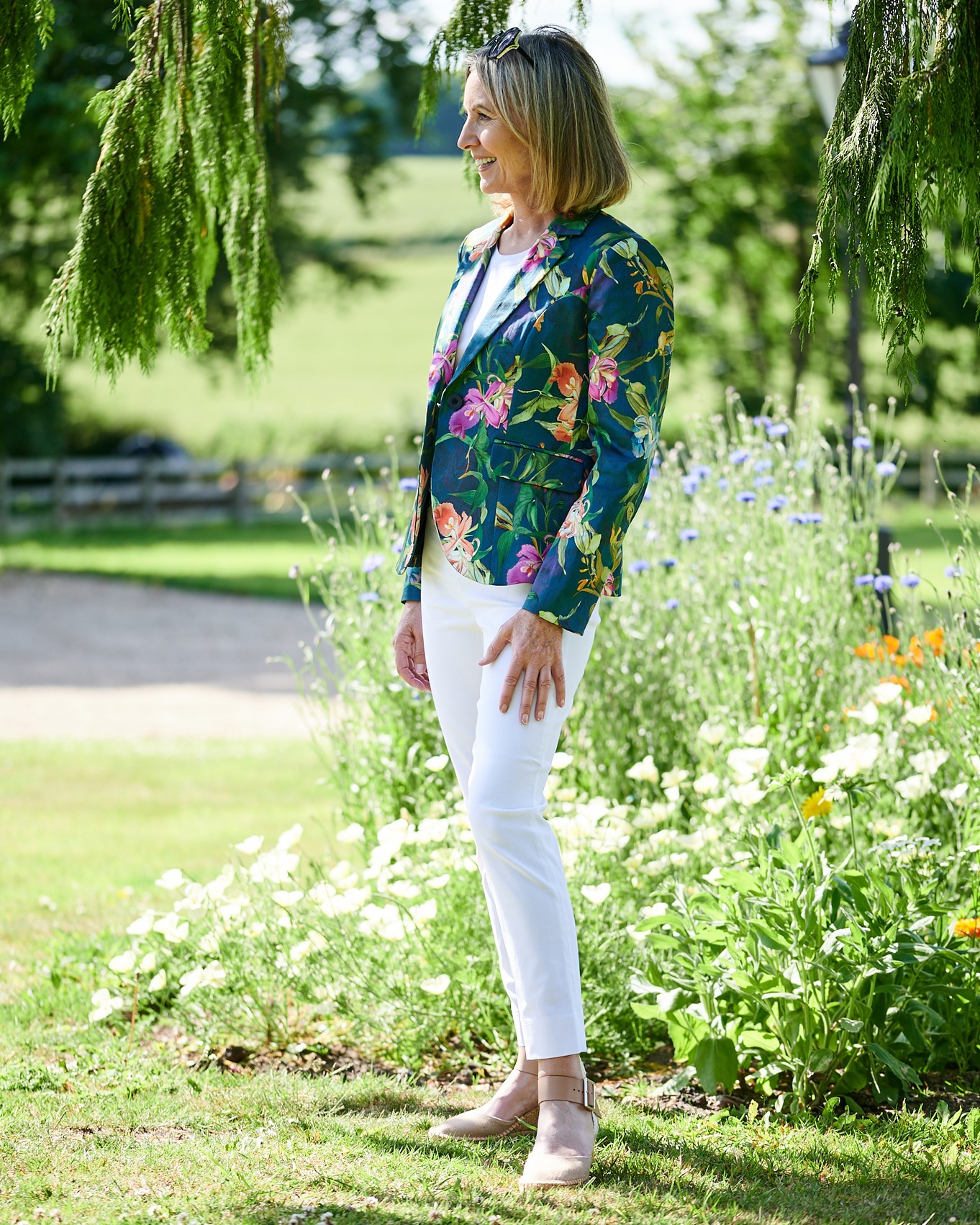 Layer with a wool coat
An excellent wool coat is a piece that never fails to add a touch of chic in the cooler months and is a fantastic way to add a sophisticated finish to a basic outfit. Plus, layering is a key styling technique to achieve a casual chic look.
An oversized double-breasted wool coat looks incredible over a chunky turtle neck knit jumper and riding boots, for example. A coat like this can be layered over so many outfits and especially in those rich, warm colours.
You could also try a longline sleeveless wool jacket layered over a knit, classic skinny jeans and brown riding boots. Complete the autumnal country casual chic look with a brown fedora hat.
A wool coat is one of those staples you'll reach for year after year and is definitely a piece worth investing in as part of your autumn/winter capsule wardrobe.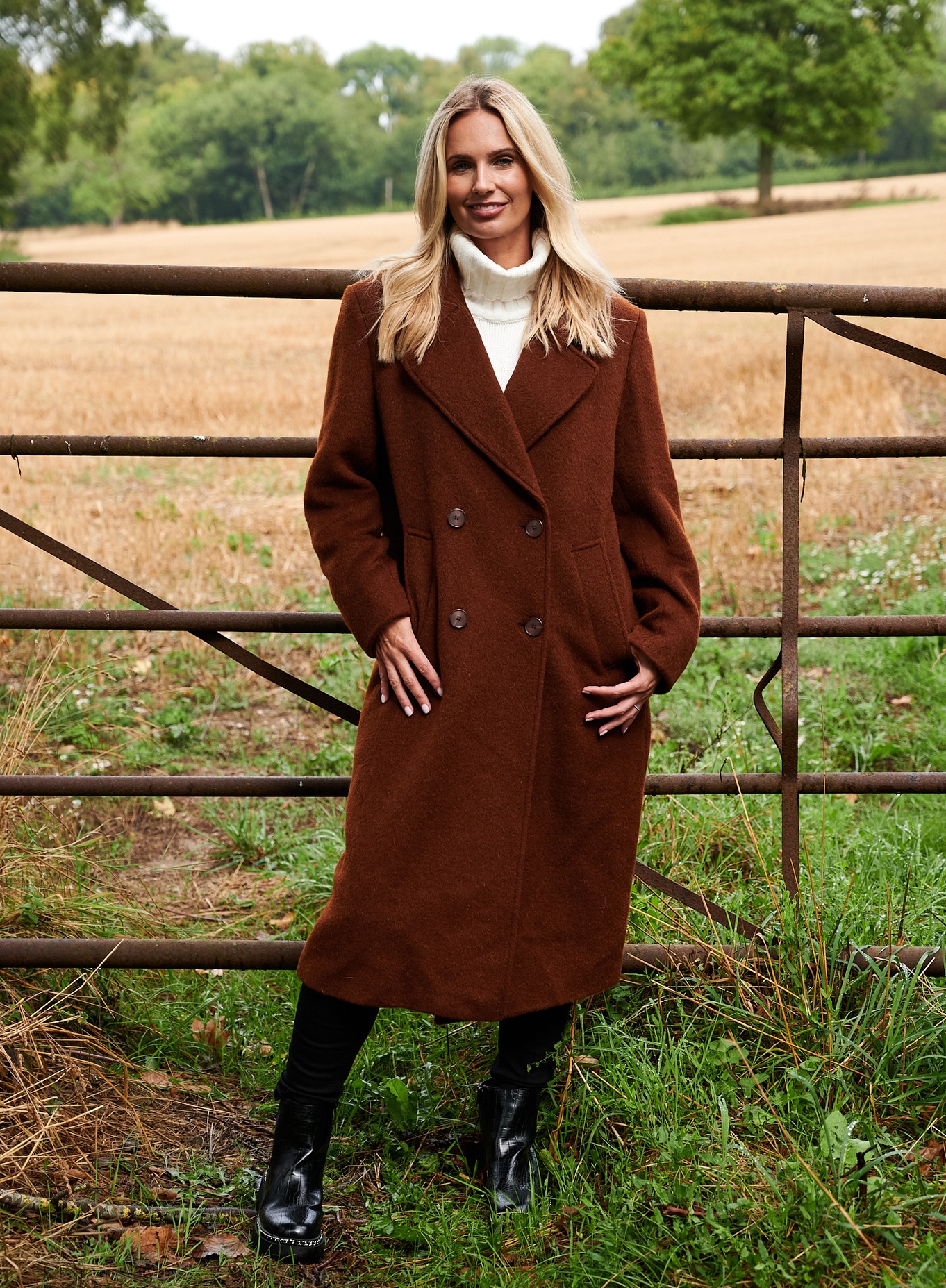 Jeans
A great-fitting pair of jeans is the ultimate way to create a casual chic look as they can be teamed with a multitude of pieces, and there's a pair to flatter every body type and silhouette.
A pair of black skinny ankle grazer jeans with heeled sandals, a black tee, denim jacket and stylish bag is the type of outfit that can be worn for lunch with friends, a date, or simply when you want to step up your style game without feeling overdressed.
Alternatively, you could try a pair of timelessly stylish and flattering bootleg light wash jeans with heeled ankle boots and a tailored blazer for an elegant everyday look that makes you feel polished and put together.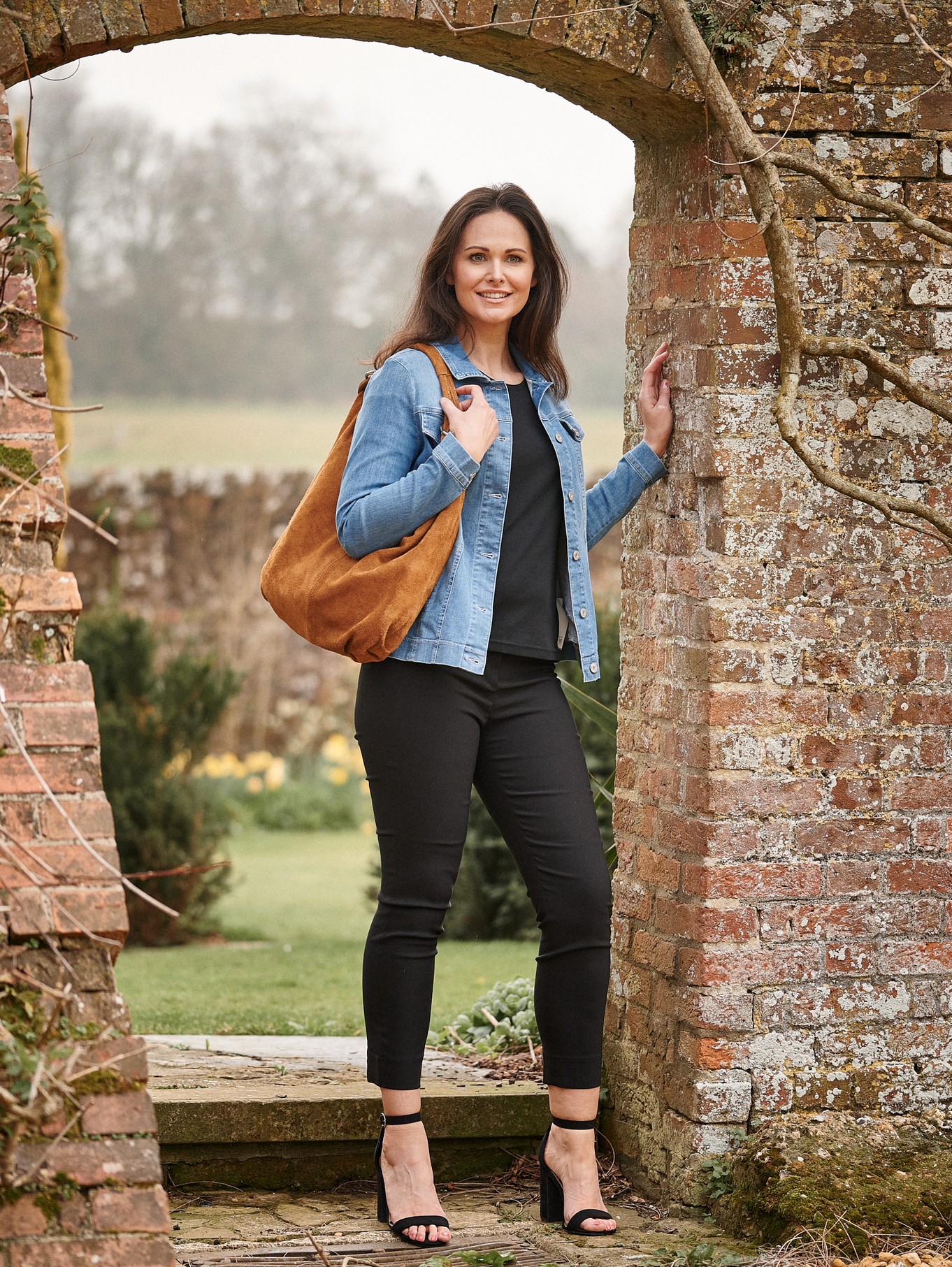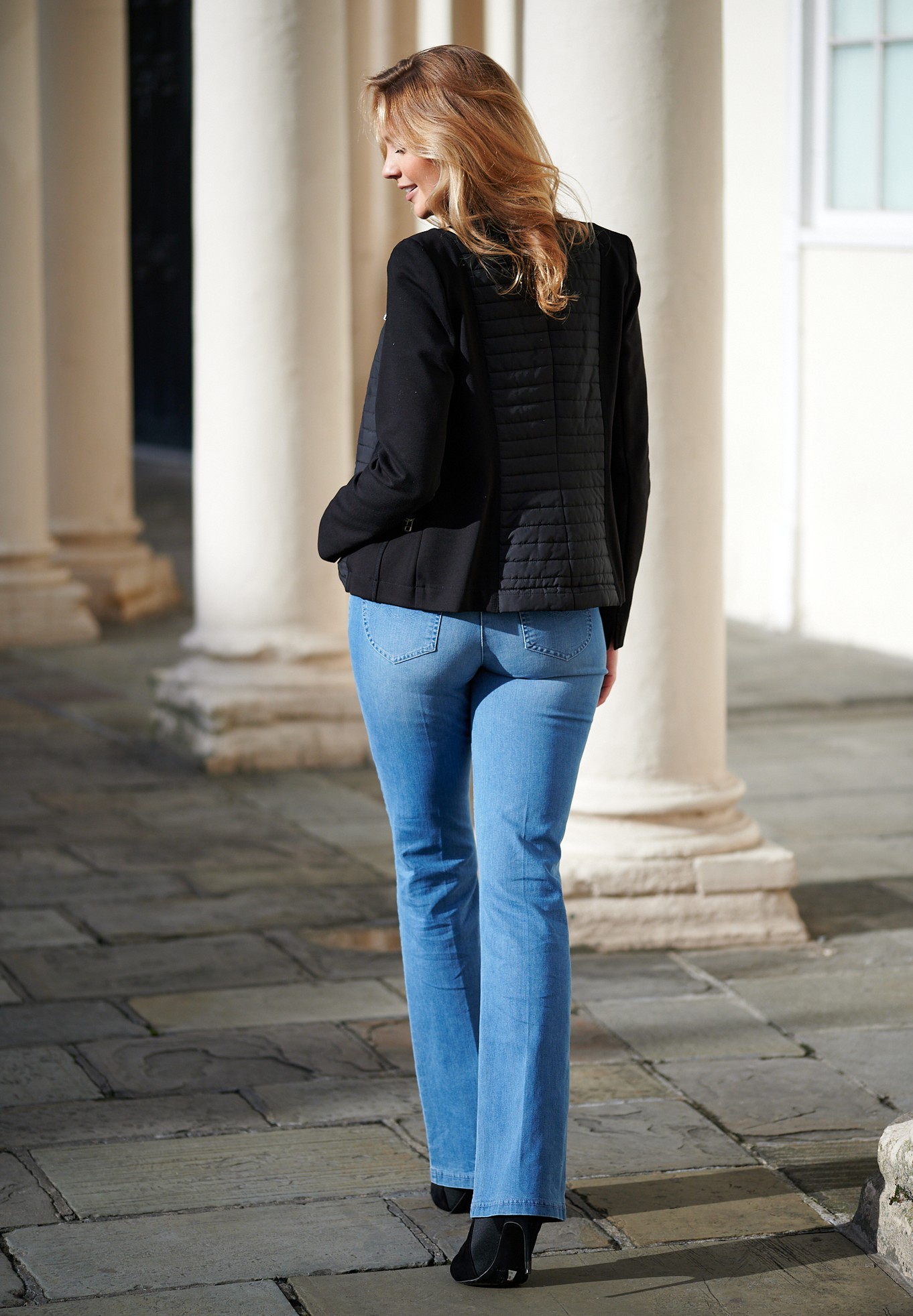 Blazers
Blazers are another wardrobe staple you can reach for throughout the seasons and are one of those dynamic pieces that show you have great style. You can team them with jeans, patterned trousers and even slimline joggers.
There are many styles to choose from, ranging from more form-fitting and tailored to oversized, depending on the look you want to create.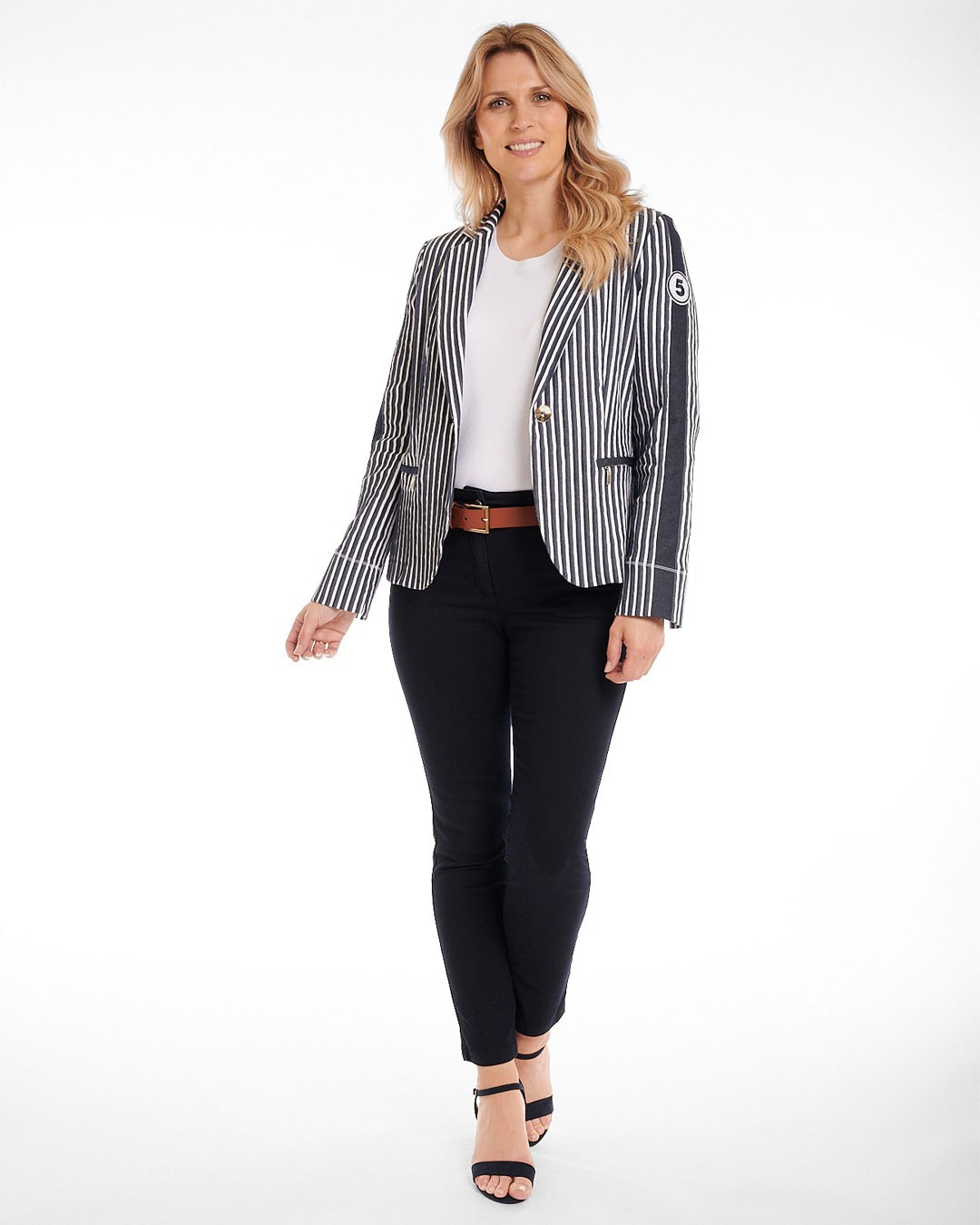 Classic Trousers
Classic trousers are the ideal alternative to jeans and a must-have wardrobe staple for creating the essence of casual chic, simply because they're so versatile!
The great thing about classic trousers is they look smart to elevate your outfit and can be teamed with those more casual favourites such as a lightweight knit jumper, casual jacket and loafers for a coveted off-duty finish.
Casual trousers are also available in an array of colours, ankle lengths, patterns and fabrics, so you can easily incorporate them throughout the seasons.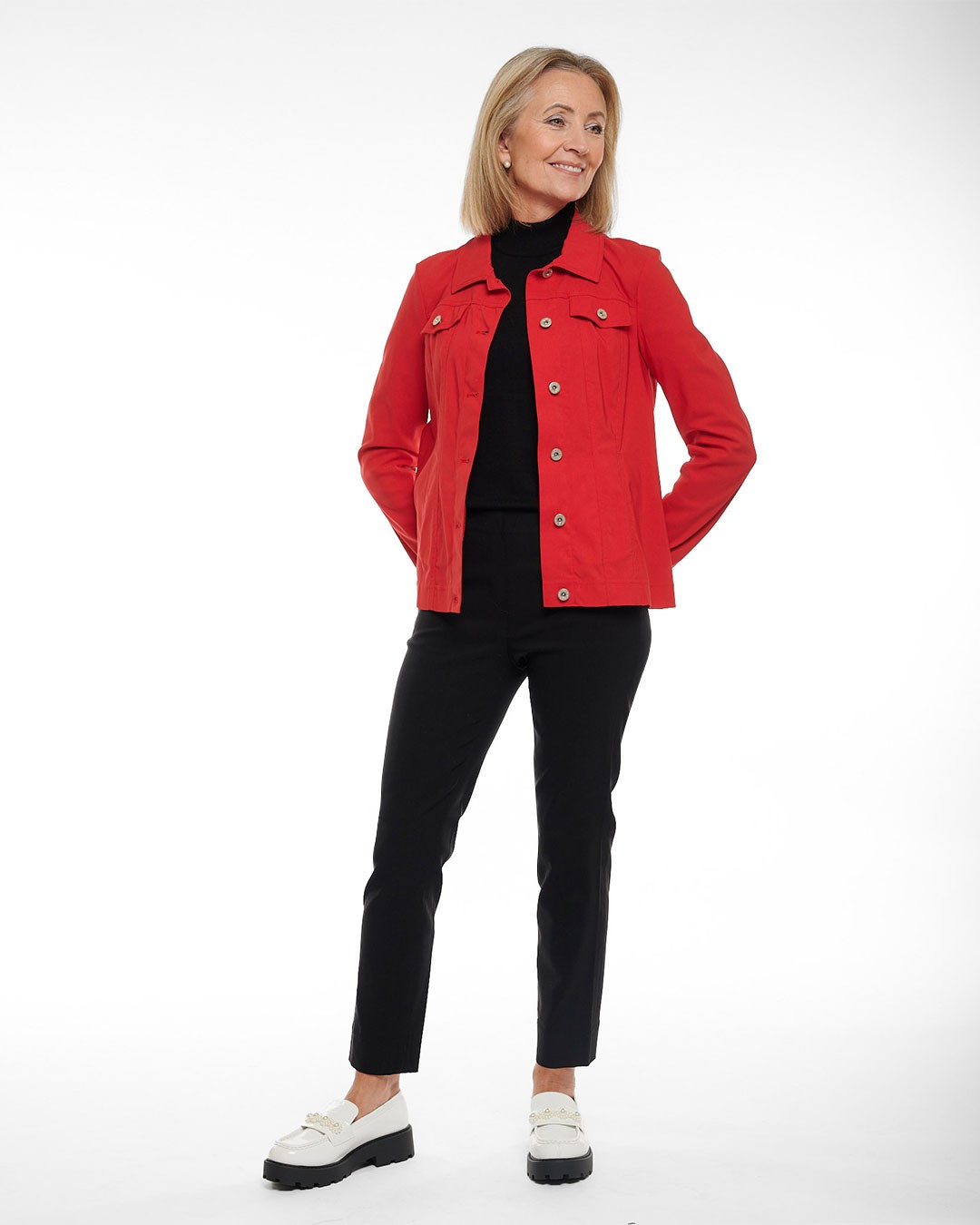 Roll Neck & Turtle Neck Knits
You really can't ever go wrong with a roll neck or turtle neck knit; a modern essential that can be worn from Autumn through to Spring and the epitome of casual chic!
Suitable for so many occasions, you can pair your knit with jeans and long-length riding boots, or jeans and ankle boots, to provide a couple of examples. Leggings with longer knits also look fantastic.
Layer with a coat, jacket or blazer and you're good to go!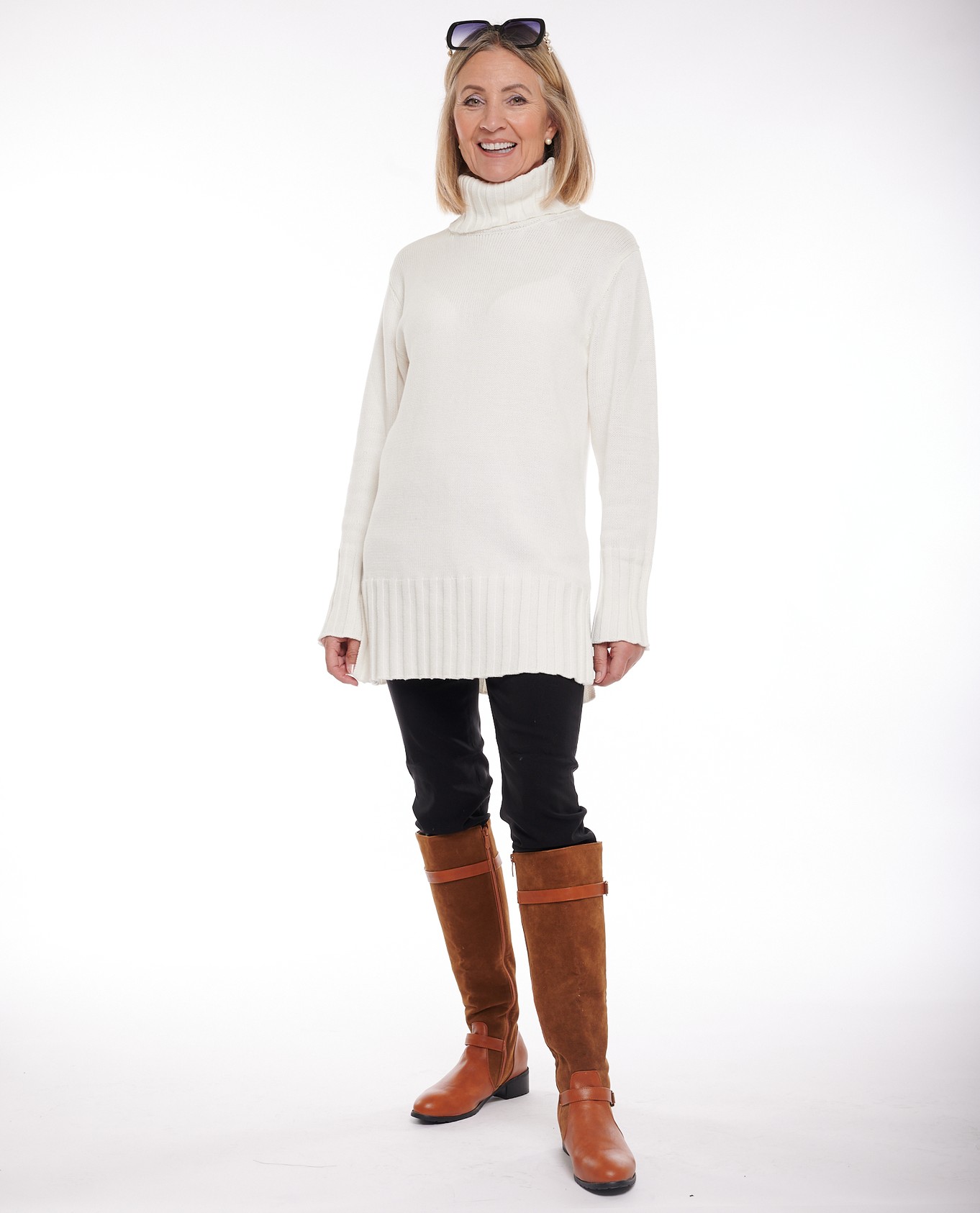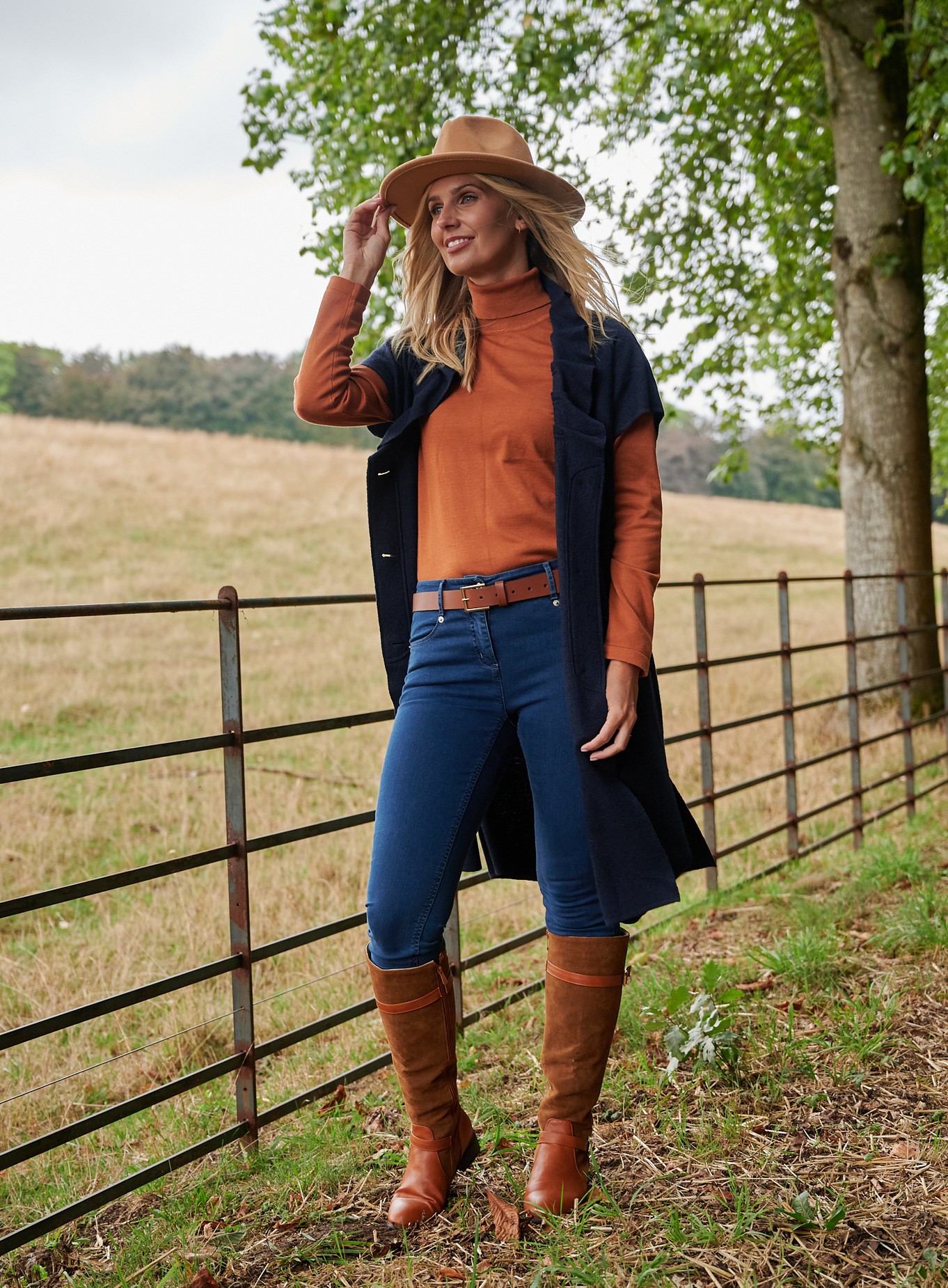 Leather Trousers
A pair of leather trousers have universal appeal and are an incredible item to include in your wardrobe. The key to making them work and achieving the casual chic vibe is all in the styling!
Try teaming your trousers with a lightweight full-sleeve basic tee layered underneath an oversized cable knit roll neck jumper and heeled boots. You can then accessorise with your favourite bag. The leather leggings and boots provide a streamlined, elongated silhouette, whilst the oversized jumper adds the perfect casual twist.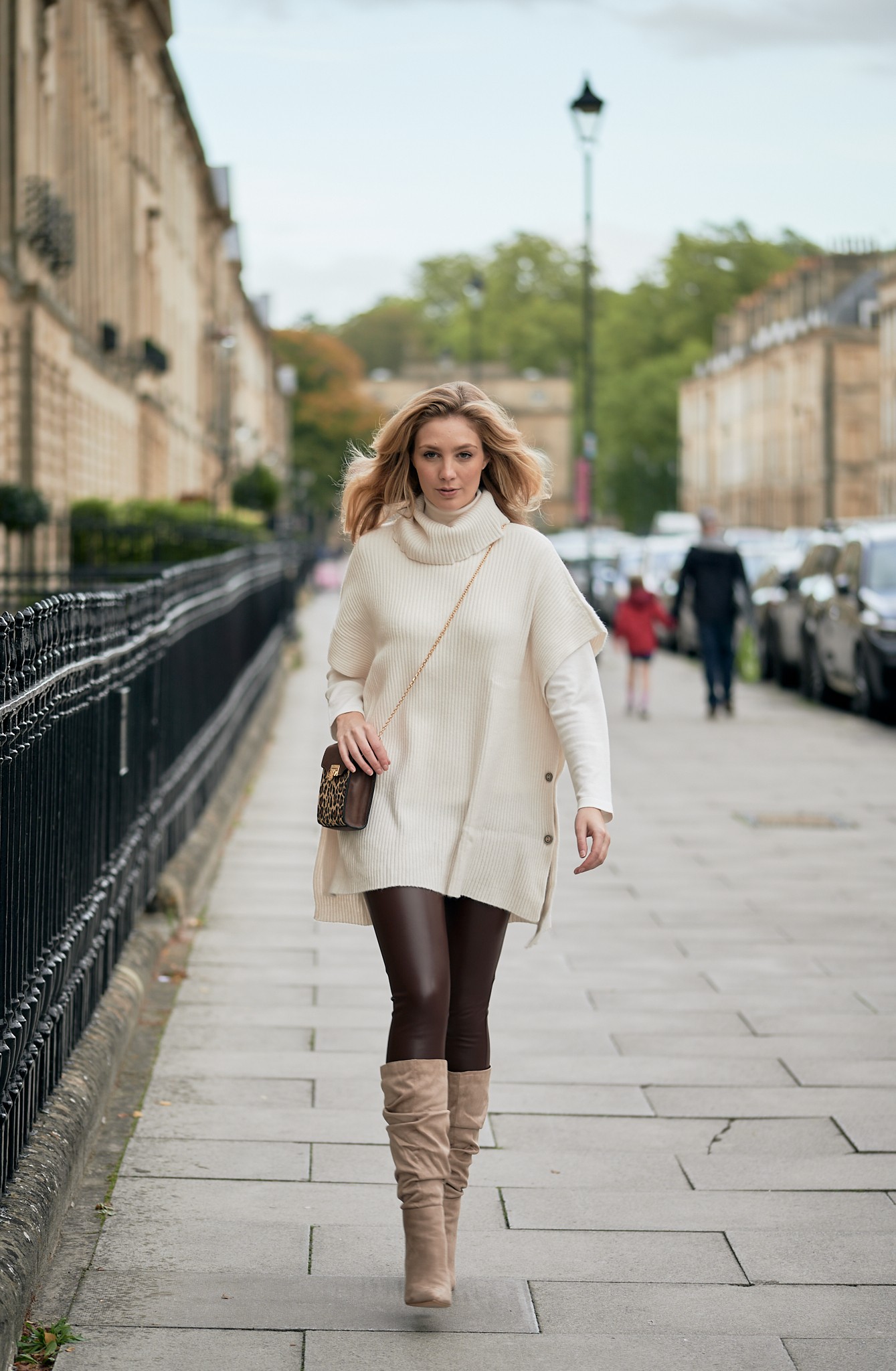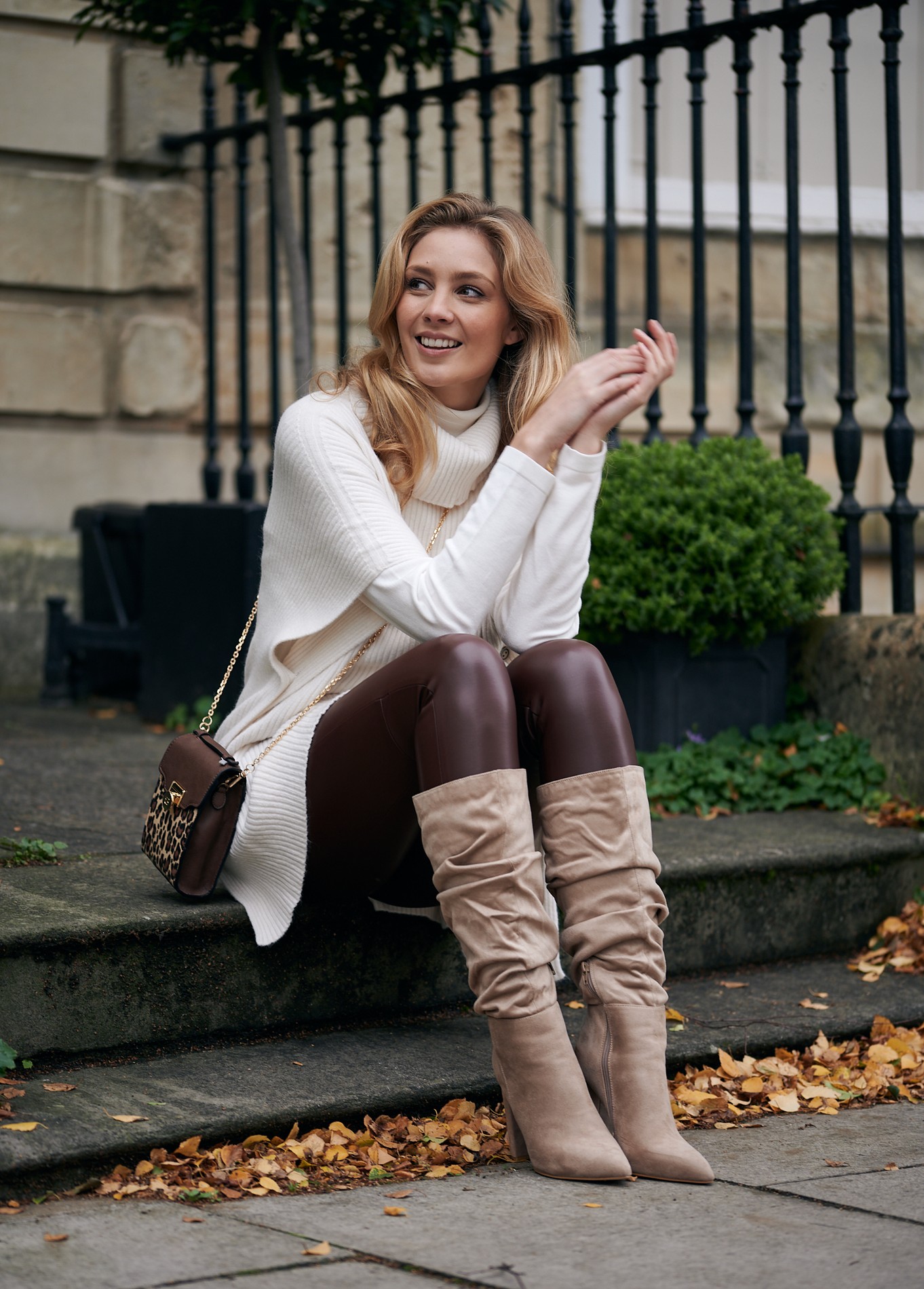 Casual chic is all about looking effortlessly put together. Start by reaching for those basic items, and then add the garments, shoes and accessories that upgrade the outfit and allow you to express your style personality!